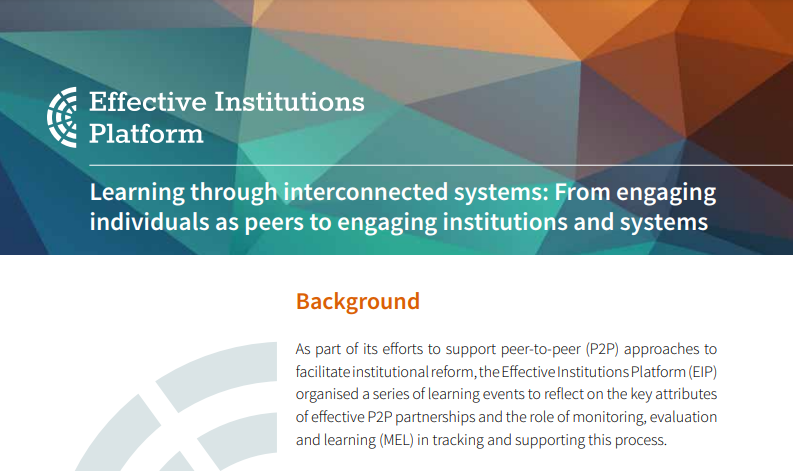 Learning Notes on Key Attributes of Effective P2P Learning for Institutional Reform
The EIP learning notes captures the main insights coming out of the EIP learning series – aimed to support P2P approaches as a pathway to institutional reform.
Based on findings from the report Lessons Harvesting: Learning from P2P Engagements – Discussion Paper for a Monitoring, Evaluation and Learning Framework, and additional input from P2P practitioners, the learning series identifies and expands on key attributes of effective P2P partnerships for institutional reform, including trust and mutuality, learning through interconnected systems, and unleashing local capabilities.
The notes can be used as a reference tool by EIP members and partners to guide and enhance their approach to P2P partnerships. The lessons gathered also informs ongoing work to develop tools and approaches with a view to improve the monitoring, evaluation and learning of P2P initiatives.
Building on insights and experiences gathered through three learning events with EIP members and partners, focused on trust and mutuality (December 2020), learning through interconnected systems (February 2021) and unleashing local capabilities (April 2021), the learning notes set out key lessons, considerations and questions for P2P practitioners to explore.
You can access our learning notes below:
Learning Note 1 – Building Trust and Mutuality
Learning Note 2 – Learning through Interconnected Systems
Learning Note 3 – Unleashing Local Capabilities through P2P learning